Presenter Roman Oleh Yaworsky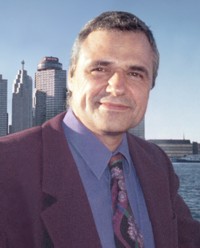 Roman Oleh Yaworsky has years of experience both as a professional astrologer, author and a teacher of astrology. For over 20 years he has created and innovated new directions for astrology software and collaborated in producing commercial astrology programs.
In addition to his professional astrology practice, Roman is also an Energy Medicine Practitioner and Energy Healer. He is established in the Shamanic arts of the Inca tradition of the Andes and has an extensive background in yoga and other spiritual and healing traditions.
Drawing on his extensive knowledge of astrology and other healing systems, he shares great depth and insight, both in his professional practice, his seminars and in the international services he provides.

Roman can be reached at

roman@powerfullight.com
Over 20 years of Professional Astrology Counseling and Teaching
Developed a New Approach That Turned Astrology Into a Healing System
Roman's astrology readings focus on revealing the gifts in a client's natal chart: where a client may have experienced being held back in the expression of their sprit, joy and power, and their unique path and practical means to return to center, balance and full expression. Roman has successfully re-integrated astrology with other healing traditions and retuned it to its spiritual roots and promise.
Innovative Astrology, Spiritual
and Healing Workshops and Courses
Roman Oleh Yaworksky has created workshops and courses that take students to a deeper understanding and appreciation of the subject. He is known for an engaging and dynamic personal style that draws on his very comprehensive background in the sciences, art, healing and spiritual traditions.
Commercial astrology software development
Roman is one of those rare astrologers who does not just use astrology software - he has also written and designed software from the ground up, giving him a comprehensive understanding of his craft, its practical applications and technical limitations. He has pioneered the graphic presentation of astrology, so that it may serve not only the presentation of astrological phenomena, but aid in supporting the intuitive side of astrology.
A scientific approach
Roman's formal background in the sciences has honed his attitude towards much of the astrological information found in books and tradition. Part of the power of Roman's approach, is that the material presented in his writing, courses and workshops has been tested through direct personal experience - and he encourages the same in his clients and students.
Spiritual, Energy Medicine and Healing Background
Mesa carrying shamanic practitioner
Established in Q'ero healing tradition of the High Andes of Peru. Direct clearing, realigning and re-energizing of the chakras and energetic field.
Holographic Repatterning ฎ, and Resonance Repatterning ฎ, Practitioner, Level 1
Detection and removal of disharmonious resonances and emotional patterns.
Extensive background in meditation and yoga
Roman's mediation practice began with Tibetan Buddhism in 1967, and extended to Kashmir Shaivism for over three decades. His studies have also included western spiritual traditions and the native traditions of the Americas.
Astrology and Counseling Publications
Being Centered

TM
This book is a practical and innovative guide to reconnecting to spirit through the heart. This book grew from a need to provide original information and support material to sustain clients during their healing that was not readily available. The book identifies both the obstacles and opportunities for growth within a spiritual context. Published 2007, SpiritUnleashed, Miami, archival binding, 273 pages.
Powerful Light Astrology

TM

- Natal Report
A comprehensive in-depth report of the main themes in a clients natal chart. Unlike other available commercial astrological reports presently on the market, this report is unique in that it explores and identifies the where how and why the client tends to give away joy, personal power and responsibility and where and how they can regain it. This personalized report offers them insights and solutions in how to reconnect to their core once again. Currently available only to clients. Approximately. 40 pages.
Powerful Light Astrology

TM

- Transit Report
A comprehensive in-depth report of the main underlying issues being encountered during the period of interest, typically spanning a year. The focus is not only on the understanding of the patterns of events, but more importantly on the underlying energetics, gifts and opportunities that are presented.. Currently available only to clients. Approximately. 30 pages.
Workshops and Courses
A Partial Listing of Currently Scheduled Courses and Workshops by Roman Oleh Yaworsky:
An introduction to the Foundation and Dynamics of Astrology TM
Miami Beach, June 6 to Aug 15. For more information
Intermediate and Advanced Astrology Workshops
Miami Beach, Ongoing.
The Nature and Influence of the Chakras TM
Last given in Miami, March 2012. It will be offered again later in 2012
Free Your Destiny: Move Beyond Your Fate TM
September, 29, 30, 2012 at the Educating Hands School of Massage, Miami
Continuing Education Credits available for the healing community. For more information
Formal Education
Medical Illustration, B.Sc. AAM, University of Toronto
Biochemistry H.B.Sc., University of Western Ontario
Ontario College of Art